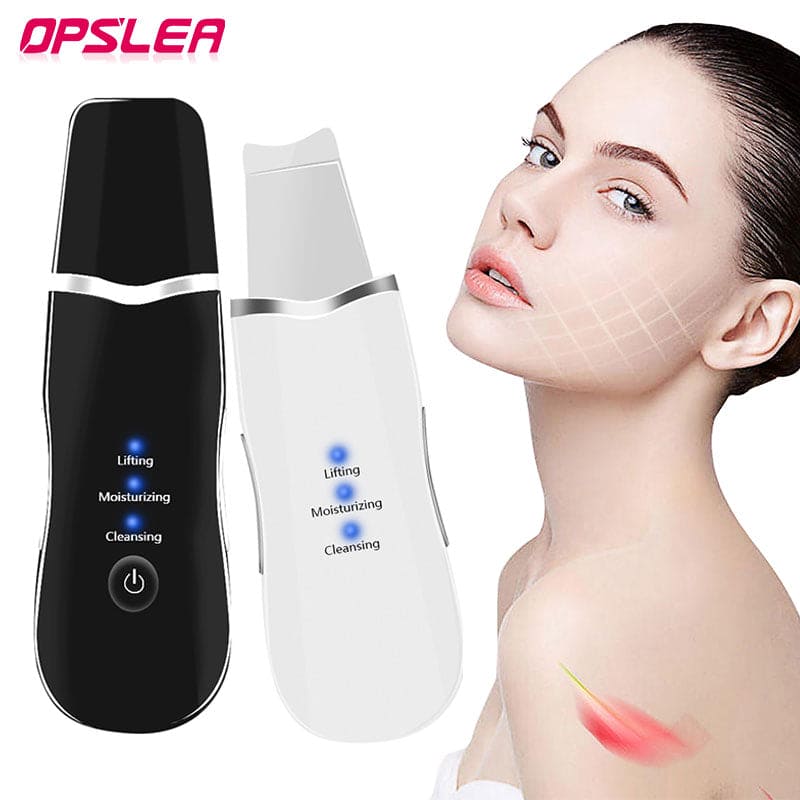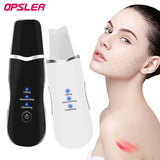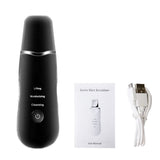 Ultrasonic Skin Scrubber Deep Face Cleaning Machine Peeling Facial Spatula Blackhead Remover Shovel Pore Cleaner
$23.75
Regular price
$29.43
Description

Free Return & Exchange
SPECIFICATIONS
Working Principle: Ultrasonic
Working Principle: ION-
Working Principle: Vibration Massage
Working Principle: EMS
Usage: Blackhead removal Device
Ultrasound peeling: Anti wrinkle Device, Acne Removal
Type: Ultrasonic Face Scrubber
Standard Voltage: 220V
Standard Voltage: 110V
Standard Voltage: 100V
Standard Voltage: 240V
Product name: Ultrasonic Skin Scrubber
Power Source: Rechargeable Battery
Power: USB Rechargeble
Origin: Mainland China
Material: Other
Manufacturing Process: Machine Made
Function: Dead Skin Removal
Function: Skin Mouisture
Function: Anti Wrinkle
Function: Lifting
Function: Skin Rejuvenation
Function: Skin Tightening
Function: Facial Clean
Function: vibrator microderm skin massage
Feature: Dirt Blackhead Removal
Brand Name: OPSLEA
Product Introduction
Ultrasound Face Cleaning Machine is a high frequency mechanical vibration wave, which is widely used in medical and cosmetic fields. The mechanical wave has mechanical, warm and catalysis function. It can produce gentle resonance effect on skin at low energy and high frequency vibration, enhance cell viability and permeability of all cortical tissues, dredge sweat glands and shrink pores.
Product Features
1.Deep cleaning and scavenging aged horniness
2.Pigment decomposition and desalination spot
3.Deep rhytidectomy and enhance skin elasticity
4.Promoting blood circulation and lymphatic metabolism
5.Enhance the regenerative ability and permeability of skin cells
6.Skin deep massage, nutrition introduction and variegated derivation
7.No damage and side effects on skin
8.Elegant appearance, easy to use, operate and carry

Product Parameters
Product Name: Ultrasonic Skin Scrubber
Power Supply: AC100V-240V 50HZ/60HZ
Output Voltage: 5V/600mA
Charging Mode: Rechargeable (lithium battery)
Net Weight: About 990
Power: 2w
Size: 173*55*15.5MM


Charging Method:
1.Charging line connection USB interface,Please charge the Deep Face Cleaning Machine fully before use
2.The USB interface of Computer, adapter (sold separately) and mobile phone could be used to recharge
LED lights flicker continuously in the process of charging and will stop flicker when fully filled.
Please confirm the state of the lithium battery before charging Please tear the protective film down before the first use.

Notice
Please charge the Face Cleaning Machine  in time before power off.If the following two situations occur,Please charge the Ultrasonic skin peeling device .
1.if it unable to boot after long press the power buttor.
2.if the professional skin cleaning Machine makes a sound "bi-bi-bi" the battery power shortage.
The professional face vibrating device will be in standby state automatically after use ten minutes and will turn off after one minute if not used.
Fully charged needs about 150 minutes (First use, need to charge more than five hours.)



How to use it: 
 * Step 1: Cleanse your face/nece/body with mild cleanser and water.
 * Step 2: Keep your face wet and turn on to scrubbing/peel mode, hold the Face Scrubber with the spatula blade angled down, gently  glide the edge of the spatula along the skin's surface, watch as the gunk from the pores easily builds up onto the edge of the spatula. Wipe clean as needed. 
 * Step 3: Dry the face, apply cream to the skin. Turn the infusion mode and penetrate the cream deep into the skin. 
Cleaning & Maintenance
1.Please make sure that the device is in power off state
2.Please clean up the device with cotton pads or soft fabrio
3.Please put the device in a dry and cool place
4.DO NOT put the device in a place where children can touch it
Package Includes:
1 x Ultrasonic Facial Skin Cleanser
1 x Power Adapter
1 x User Manual 
We believe in the quality of our products therefore we offer a 30 Day Money Back Guarantee with no questions asked! When you purchase from us, there is ZERO Risk for you! See our return & refund policy
Ultrasonic Skin Scrubber Deep Face Cleaning Machine Peeling Facial Spatula Blackhead Remover Shovel Pore Cleaner
$23.75
Regular price
$29.43
FAQ

I want to return my purchase! What do I do?

No Hassle Returns! We want you to be completely satisfied with your purchase from Reverse Beauty®, so if you aren't 100% satisfied, we'll happily refund your money within 30 days of your purchase. (Returns must be unworn, in the state you received them, and in the original packaging.)

How long does it take for me to get a refund?

It typically takes about 5-10 business days for your return to arrive at our fulfillment center and be processed for refund. Once we receive your qualifying return and approve your refund, Reverse Beauty® will credit your original method of payment.
Shipping

Fast shipping

Within 1-3 days, domestic orders within the continental US are delivered. Overnight shipping and gift wrapping is available on domestic orders. International shipping is available.

Order tracking

Once your order is complete, you will receive an email with a tracking number to check the status of your package easily.

Get in touch

We're on standby 24/7 via chat. You can also email us at help@myreversebeauty.com or call us Monday-Friday from 9-6 PT.